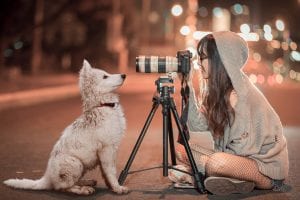 Have you Googled yourself lately?
While sophisticated and expensive prospect research software is available, many non-profits cannot afford the services, and those who do often use Google to verify their findings.
I once enjoyed 15 super exciting minutes because a new prospect's name returned with an A+ rating from our wealth assessment software. Then, I Googled the street address and learned this elderly gentleman lived in a state-run retirement home! The software had erroneously assigned the full value of the assisted living facility to my "prospect."
Today's blog focuses on saving your organization money and time through free and intentional searching. Using these strategies, you can determine if your new prospect has the Capacity, Propensity and existing Connections to merit a customized development plan.
Steps to Maximize Your Free Search
1. Start with your current database! Knowing the prospect's existing relationship with your organization makes your research easier and quicker.
2. Google the name you know. Then, Google all iterations of the name.
To make my point here, I'll use myself (so I don't need permission). I go by Phoenicia , but if the ship goes down, look for Onia. That's my first name. Also, I'm married, and my husband has a different last name. To build a full dossier, search all surnames. Search with a middle initial and without.
Names lead to wedding announcements and obituaries which provide significant insight into personal and geographic connections.
And, a name often results in a street address which leads to the next step.
3. Search www.whitepages.com to confirm the address. Here you may also find the approximate age of your prospect as well as family connections.
4. Search Property Records and/or Board of Assessors and Tax Records
Depending on the county, a property record search can provide the names of everyone who lives on your prospect's street if you don't include a house number in your search. Here you can learn if your prospect lives near a current donor or board member, and, clearly, you will better understand the prospect's capacity to give.
5. Search non-profit annual reports and donor lists to determine whether your prospect gives to like organizations. What is his/her giving range? Past giving is the biggest indicator of future giving! If your mission is politically opposite or geographically distant or out of context with past giving, I recommend you move on to another prospect.
6. Research your prospect's employer
Your new prospect may be the link to a corporate gift. Research will reveal whether your organization fits the company's community focus and whether your prospect is positioned to drive a decision.
If the corporation's giving patterns are aligned with your mission, search for a pdf of their annual report, and you'll find valuable insights on pages dedicated to community interaction.
Co-workers may already be involved in your organization, and they can help you build a bridge to your new prospect.
7. Search www.fdncenter.org, and place your cursor over "Find Funding." From the pull-down list, click on "990 Finder," and search by your prospect's last name. Don't assume the state where they live now is where he/she set up their foundation.
8. Searching Facebook can waste your time unless you are super intentional. Miracle Strategies recently provided research to a client on a prospect whose immediate family's names remained evasive until I searched his Facebook page. There, he had proudly posted for public viewing a recent family photo.
While You're Searching, record Clues that Help Determine Capacity, Propensity and Existing Connections
Multiple home addresses – Capacity and Existing Connections
Family and marriage status – Capacity and Existing Connections
Donations to similar organizations – Propensity and Capacity
Family foundations – Capacity and Propensity
Alma mater – Existing Connections
House of Worship – Existing Connections
Career History/Employer – Capacity
Non-profit Board Service – Propensity
Volunteer work – Propensity
At this point, if your organization has truly uncovered a new prospect, I offer the advice of one of my mentors: "Slowly, slowly catch (the) monkey."
By the way, a quick Google search reveals that these words didn't originate with my friend. They are a proverb from the Koma people of northern Ghana.
---
To share feedback on this post, email PMiracle@MiracleStrategies.com or post to my Facebook page. To get winning, donor-centric,  goal-focused fundraising & marketing tips delivered directly to your inbox sign up here!