Phoenicia talks about how theme park reopening strategies provide a way to
build reopening processes and re-engage clients.
Free Download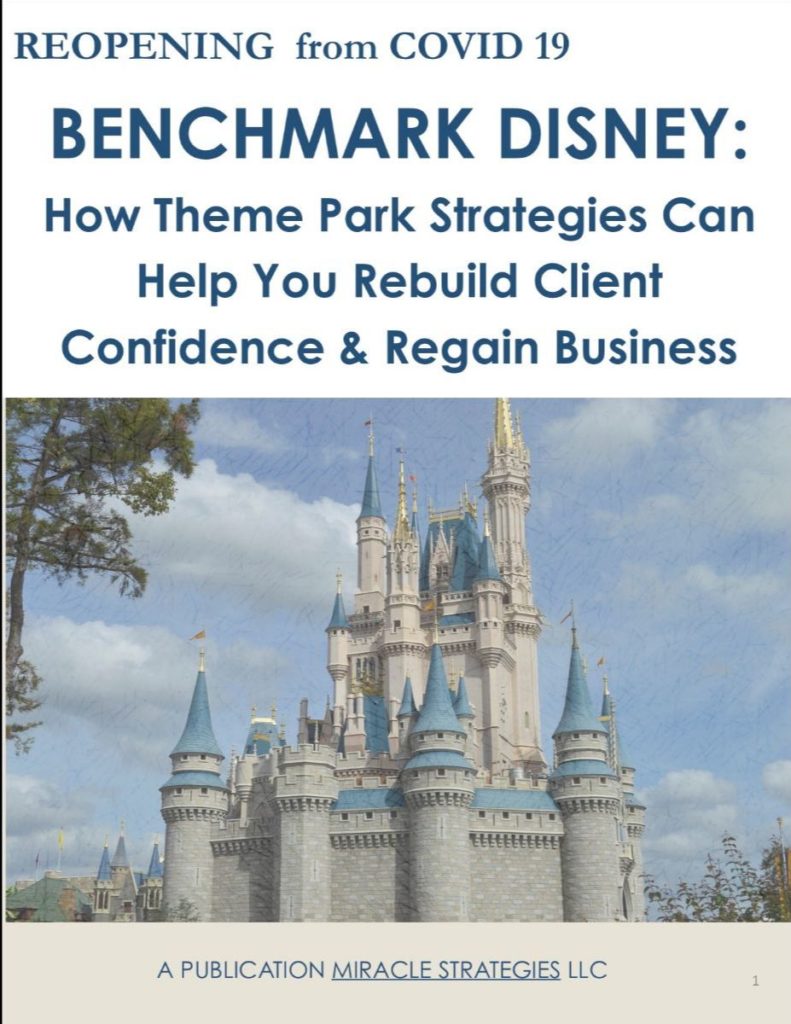 ---
Benchmark Disney: Download Free until May 5th!
---
Board members, executive directors, volunteers and key leaders will all benefit from Benchmark Disney, which is free to you, my blog audience, through May 5th, when the price goes to $4.99. Once you download the pdf, you can forward and share as often as you like.
Customers and supporters feel safe and peaceful when they understand that you care enough to put together a thoughtful plan.
Nonprofit and for-profit businesses alike are searching for ways to ramp up quickly, but deciding to open is only the first decision.
How you open matters just as much! Consumer expectations have changed, and sharing your new processes and procedures is key. On the 8th page of Benchmark Disney, I've included a section on communicating!
Benchmark Disney is not a check list, although lists are included. It includes questions, suggestions, and ideas considered by theme parks, all researched to help you design a #reopening plan for your clients.
I welcome the opportunity to work with you and your team to develop written processes — which you can continue to update as the COVID conversations continue. 
Benchmark Disney includes strategies drawn from research into reflections and responses related to Executive Chairman Robert (Bob) Iger's interview on how to open #Disney; comments on his interview; links to the CDC; and links to additional helpful materials.
When to reopen is a uniquely personal decision, depending on your business sector, your customers/audience, your mission, and your location. However, meeting customer expectations is not a unique goal, and communicating your processes is key. 
While Disney has not announced an official reopening date, who better to #benchmark your #employee and #client #standardoperatingprocedures or #openingplan against than #themeparks, whose futures depend on getting this right.
I welcome your feedback and comments on my first ebook! Thank you for downloading and sharing!
---
Contact Information
Miracle Strategies Fundraising & Marketing
Phoenicia Miracle, Principal
www.MiracleStrategies.com
PMiracle@MiracleStrategies.com
(912) 272-2263
PO Box 10851 Savannah, GA 31412
5 Gadsdenboro St. #315 Charleston, SC 29401
Want to change how you receive these emails?
You can update your preferences or unsubscribe from this list.
Copyright © 2.20.20 Miracle Strategies. LLC All rights reserved.