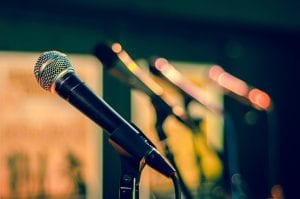 Today's post is the 2nd in my February series filled with common sense strategies to immediately increase the impact of your organization's special events!
In 2009, I had just begun a new fundraising position when my boss invited me to join the organization's table for a gala event. Somewhere in the middle of a chorus I couldn't hear and sea-foam decorations, the doctor next to me leaned over and said, "They've forgotten what they're raising money for. At the event my wife's involved with, they always have a grateful patient and the family."
Viola! The Testimonial. For many events thereafter, we shared story after story, family after family, and in so doing, we increased donations by connecting our event to our mission. My goal today is to share four tips on the perfect testimonial at a large luncheon or dinner.
Be Strategic
Choose a testimonial that directly supports the purpose you're raising money for. Everyone listening needs to be able to relate the story they're hearing to the difference their making when they give. You want your audience to know, "When I give here, that's the outcome I'm supporting."
Choose Intentionally
Look for a compelling and unique angle.
If possible, invite someone well-known. When others hear how your organization has impacted his/her life, they will give in their honor.
Begin preparing 3 months in advance because not everyone you ask will say yes.
Help with Speech Preparation
Spend one or two hours helping your special guest prepare. Speaking from the heart works fine over coffee, but most of us choke when faced with 300 people in a ballroom.
If possible, the testimonial should be written and brought to the event.
Discuss the setting, the purpose of the event, and where the speaker fits into the program.
Consider a Video
A 4-6 minute video allows you to capture more than one testimony. It also shows your success stories in a real-world setting, where most people are more comfortable.
Video quality and sound are critically important. Otherwise the impact of the story is lost in the audience's distraction & concern. (Big Tip: Test video sound and image day-of.)
The transitions from story to story should be crafted by a mission-minded writer who connects each testimonial to the difference philanthropy can make.
---
To share how you've increased the net at your events and impacted your mission, email PMiracle@MiracleStrategies.com or post to my Facebook page. To get winning, donor-centric,  goal-focused fundraising & marketing tips delivered directly to your inbox sign up here!