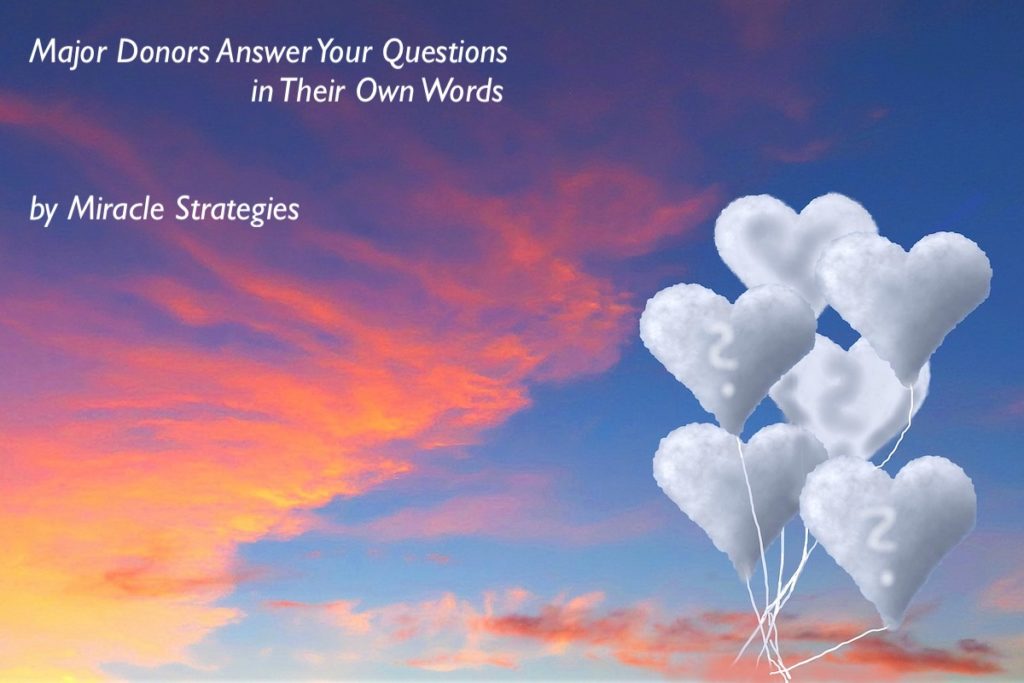 ---
In Donors' Words:


Your Questions Answered by Major Donors
My past blogs have been my professional opinions, but not this one. Today, Donors Themselves answer three questions non-profit staffs have been asking since we hit the corona-berg:
What is the Best Form of Communication?
Who Should Communicate with Major Donors?
What Do Major Donors Want to Know Right Now about Organizations They Support?
Respondents shared authentic, wise and caring counsel. Most were encouraging and hopeful. All were thoughtful and timely.
I promised not to use names, but you can hear the voice of the donor through their words.
HOW DO MAJOR DONORS SAY THEY WANT TO BE COMMUNICATED WITH?

Overwhelmingly, major donors prefer a call!
1.  I want someone to "touch base in person." – corporate sponsorship decision maker
2. A call shows "they took the time and effort." – major gift donor/event chair
3. "I always prefer to have difficult conversations in person, but the phone is fine in the current environment." – former board chair and campaign chair
4. "I think the phone call to the big donors would be great…because they are the ones that will ultimately keep things on track." – business owner and capital campaign committee member
Two donors said they prefer Targeted Letters:
1. I prefer a letter (email) from the Executive Director explaining what steps they are taking to cut their losses. "It is hard to ask for donations if the community is not aware of steps the organization has taken to tighten their belt."
Or, a letter (email) from the Chairman of the Board explaining how the chair is "helping guide the organization? Any restructuring of staff?  How they see the role of the organization in the next few months."
2. "I think a stamped letter is better than an email or phone call, and yet on our answering machine there was the dearest voice mail from _____. She is so sincere and caring, you just can't help but want to support her and 'her' organization."
Whether you call or write, uncertainty should not prevent communication. Silence is not an option during CV-19.

As I was collecting responses, a donor shared this podcast from the Major Gifts manager at Columbia University. She advises her team, "Let go of certainty…Focus on gratitude…."
Your organization can do this! In fact,  the Donor is likely someone you've built a trusting relationship with and about whom you sincerely care. They want to hear from your organization!
WHAT DO MAJOR DONORS WANT TO KNOW RIGHT NOW?
Interestingly, it's not what I thought.
Some day, outcomes, case statements, and appeals will be important again, but over and over, Major Donors used the words "relevant," "maintain," "flexible," and "crucial" to describe their expectations.
In other words, Major Donors are interested in your operation, your board's engagement, and your ability to remain relevant during this pandemic.
1. "First, I would want to know that the organization is taking the necessary actions to preserve their viability.  I do not need specifics.  But this is a time for difficult choices, and I need to know that the organization is up to making them. Second, I need to know what services they continue to provide, especially if they are of a crucial nature during this most difficult time."
2. "The whole world has changed. How does that affect your organization?"
3. "What is your board doing to maintain your mission?"
4. "What are you doing that directly impacts what's happening at the moment?" Are you "brainstorming" or "working collectively" to find solutions for your organization?
5. "The organization has to keep telling the story of how well they have done over the years — how relevant they are in the community and why they are confident that they will be as strong as ever over the coming months and into the future."
WHO SHOULD CALL MAJOR DONORS…OR SIGN THEIR LETTERS?
Pause for a minute. Our push-button lives are on hold, it seems. However, this odd time has not suspended the importance of communication from the right person.
"Right" is often difficult to qualify, but here is my guideline: If the executive director or board chair or campaign chair can make calls, they should.
Especially now when Major Donors say they want to understand how the operation is fairing.
Here's What Donors Said…
1. "…for a large and/or multi-year gift, it would be reassuring to hear from the person(s) who secured the original commitment, unless I had previously and/or subsequently formed a relationship with the executive director."  — family foundation trustee; former board chair
2. "I think, in this time of crisis, I would most want to hear from the ED who, presumably, most has their pulse on the status of their organization." – business owner; current board chair
3. – from a board member who has been making calls: "Given understandable wage concerns, I was surprised how many folks were receptive…a few even thanked us profusely for calling, which was very gracious and unexpected."
Coordinating who calls whom is a highly important job until this crisis is over.
Gratitude…Thank You!
Hundreds of people who lead good organizations will read this blog and  consciously create a clear plan for next steps. We are all grateful to the Major Donors who took the time to advise, guide, and encourage with their wise words.
There's More….
Next week, I will share additional information. I collected too much valuable feedback for one blog so be sure to open next week's blog with additional responses from Major Donors:
(1) How do Major Donors Feel about Giving Now?
(2) What Are Major Donors Thinking about Pledges They Have Already Made?
Discover fundraising tips important to you, using our simple blog search tool.
Join hundreds of fundraisers and board members who benefit weekly from winning fundraising tips.
---
Contact Information
Miracle Strategies Fundraising & Marketing
Phoenicia Miracle, Principal
www.MiracleStrategies.com
PMiracle@MiracleStrategies.com
(912) 272-2263
PO Box 10851 Savannah, GA 31412
5 Gadsdenboro St. #315 Charleston, SC 29401
Want to change how you receive these emails?
You can update your preferences or unsubscribe from this list.
Copyright © 2.20.20 Miracle Strategies. LLC All rights reserved.