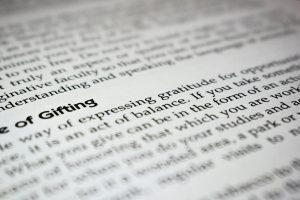 "Thank you," I said to the nice young lady last week as she slid my coffee cup across the counter.
"Oh, no problem," she replied.
"Why should there be a problem?" I wondered. "I'm buying a product you're offering, and you've just reassured me that purchasing coffee has not caused any issues."
This is only one example of popular modern quips which will not work in fundraising.
Training is Constant
Entry-level fundraisers generally stay in a new job for 16 months, according to The Chronicle of  Philanthropy.  Because of budget constraints and small staffs, new employees quickly begin to interface with donors.
Therefore, training is constant and best when it begins at the most basic level – gratitude.
To ensure gratitude is part of all communications here are suggested replacements for four popular responses which don't work in fundraising because they don't cause the donor to feel special, to feel appreciated!
1. "No Problem" –  I've already talked about how this response makes me feel.
2. "No Worries" – Imagine you've just called a local non-profit to buy four special event tickets. You end the conversation with your credit card and a thank you, only to be told, "No Problem" or "No Worries."
Fundraisers, please allow me to be literal for a moment: Do you really think the donor is worried? Isn't it our team, our non-profit organization, which needs to raise more money year over year?
Instead, say, "You're Welcome." Now there's a faultless phrase which has worked for hundreds of years to mean "one whose coming suits another's wish." (That certainly sums up how we feel about donors!)
Recently, Southern Living On-Line reported on Chic-fil-A's culture of gratitude. Employee training focuses on meaningful engagement with each customer through "elevated language."
The article repeats a company legend that founder Truitt Cathy was staying at the Ritz Carlton when he said thanked a hotel employee. The employee replied, "My pleasure." (Not, "No problem.")
Cathy wanted to bring that feeling to his own restaurants because those two small words made the Ritz Carlton stand apart as a luxury establishment. Today, this is their standard response to "Thank You."
3.  "Sure"
Most often, you'll hear this response after you've asked for a change. For example, "Would it be possible to increase the font size on the fundraising letter? Our donors who use snail mail would appreciate that."
Instead, say, "Yes, we can…. Is there anything else?"
This short exchange puts the donor, the committee member, the board member in charge, in a position of feeling that their input and advice are helpful. (Fellow fundraisers – this is more than a feeling. We cannot do this work effectively without them!)
In my experience, most volunteers don't want pressed wood plaques or mass-printed certificates. They want to feel appreciated for their ideas, recommendations, gifts, and hard work.
4. "Let's hop on a call."  Instead say, "Are you available next week for a conference call with our team?"
Psychologically, once again you've put the client, the donor, the sponsor, in the driver's seat.
You're really saying, "We will rearrange our schedules to meet your needs because if you're not on the call, it isn't worth scheduling."
Gratitude: A Popular Topic
Gratitude is a popular topic today. A quick google search reveals hundreds of books and articles – all written in recent years. This makes the conversation with the fundraising team even easier.
Language, communication, and style – even in donor texts, emails, and quick calls – is determined by the audience. Ours happens to be people who give us money they could've used to go to the Bahamas or buy a new car….
In other words, our world lends itself to deep and authentic gratitude.
Would you like to know the truth?
I've been told by donors that I'm "too formal," but millions of dollars later, old-fashioned gratitude with all its staid guidelines remains my conventional standard for fund solicitation and stewardship.
Try it. I believe it will work for your team as well.
---
Want a professional perspective on your project? Contact Phoenicia.
Watch a sample of her work here!
Discover more simple, experience-based fundraising tips, by Clicking Here.
To share feedback on this post, email PMiracle@MiracleStrategies.com or post to my Facebook page. To get winning, donor-centric, goal-focused fundraising & marketing tips delivered directly to your inbox sign up here!