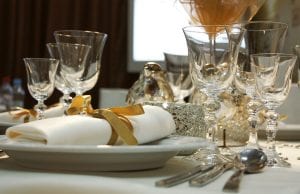 This February, I thought I'd focus on common sense strategies to immediately increase the net impact of your organization's special events on your mission! You'll want to share this post with your committee!
So, where can you save? Where should you pay and move on?
Flowers – Ask the florist for advice. Simply trading varieties can save money.
On-line. We once bought 300 gold chargers for less than the rental fee.
Consider quality polyester or a blend to save on linens.
Before paying thousands, ask, "Will this speaker grow our audience? Increase our sponsors?" Unless you have a well-known name or major underwriter, consider a video of testimonials. Authenticity works!
Wine – Service and quantity matter. Quality is up to taste.
Food – Look for exchanges such as salmon spread for caviar; green beans for asparagus; mousse for cheesecake; elegant simplicity over complexity.
Sound, lighting & technical support – Seek bids and in-kind sponsorships, but don't skimp here. Complaints, not donations, result when audiences can't see or hear or when videos and sponsor slides don't work!
Provide parking – Pay to valet or to keep the automatic arm on the lot raised. Provide signage, volunteers to direct guests into the venue…An unhappy park-er rarely donates!
Finally, focus on revenue (sponsorships, table and ticket sales, teams, maybe an auction). Quickly make event decisions and move to fundraising!
Set your event's gross fundraising goal AND your net goal by your third committee meeting! In 2010, I led a non-profit with multiple events. To increase our net across the organization, I invited all committee chairs to lunch. I held 10 pennies in my right hand. Slowly, I dropped three pennies into my left hand. The point? Every penny on the left took away from the very people we existed to serve. The chairs agreed. Expenses decreased 12% year over year!
---
To share how you've increased the net at your events and impacted your mission, email PMiracle@MiracleStrategies.com or post to my Facebook page. To get winning, donor-centric,  goal-focused fundraising & marketing tips delivered directly to your inbox sign up here!