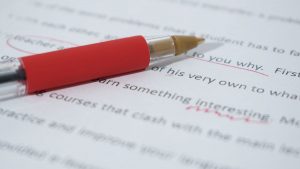 ---
Today's blog may be the most helpful yet if you're a fundraiser.
Many readers are board members and professionals from other fields, and I often write with a broad view of my readership, but not today.
This blog is for that frustrated fundraiser who's waiting for someone to write something so you can move on to the next step.
Expertise or Passion?
As a new fundraiser two decades ago, I anticipated that I would receive field-specific content, and I would then drop it into a letter or speech or grant proposal.
Soon, I realized this wasn't likely. So, what did I do?
The Secret
Well, that's where the "best fundraising tip ever" comes in: I wrote it myself!
Yes! The secret to arriving at the most convincing copy possible is this: Write it yourself!
This strategy works over and over because no one knows what they want until they see or read what they don't want.
How to Write the Best First Draft Possible
Google. Research. Take copious notes while with the "expert." Then, write the very best speech, letter, or grant proposal possible.
Attach it – in editable Word, not a pdf — to an email with a nice note such as "I think this will give us a good starting point," and press Send.
Viola! Like the lightning bugs in a Kentucky field at dusk, the darkness will begin to twinkle. Not a spotlight, but a twinkle.
Your phone will ring. You'll hear a buzz, alerting you of a new email. An assistant may send you an appointment.
You may even get a note which says something like this: "We really need to review this before it goes out."
I love, love, love this strategy. Frankly, I love to write, but content can be a challenge, especially with a new client or in a new job.
True Story
Several years ago, I applied to lead a relatively large fundraising organization in the healthcare arena.
During a group interview, a highly respected physician asked me, "Why do you think you can raise money here when you're coming from an arts organization?"
"Because," I said, "I'll have you by my side when I need medical expertise. I can handle the fundraising part."
I got the job. During the ensuing years, our group raised money because of the experts by our sides.
What I am really saying is this: Philanthropy is a team effort, and when writing is required, it's the fundraiser herself who has much at stake.
No letter, no grant, or no speech can equate to no gift, which impacts outcomes, performance reviews, and career opportunities.
Off and on until 2000, I taught secondary English. While working on my M.Ed., I was introduced to Peter Elbow's well-known work, "Writing Without Teachers."
His advice to those wanting to improve as a writer was simple: Accept feedback, and "never fall in love with your words."
Mr. Elbow's advice is empowering. If today, you're "waiting" for someone to "write," turn to the only person you can control, and begin to write the very best draft you can.
Two amazing things will happen: You will get immediate feedback, but as important, you will educate yourself on a topic you likely need to understand.
Four to six drafts from today, you will have the final product. Your director will respect your initiative. The "experts" will be engaged. But most important, your organization's mission will receive support from whomever you're writing.
Isn't that what it's all about?
---
Want a professional perspective on your project? Contact Phoenicia.
Watch a sample of her work here!
Discover more simple, experience-based fundraising tips, by Clicking Here.
To share feedback on this post, email PMiracle@MiracleStrategies.com or post to my Facebook page. To get winning, donor-centric, goal-focused fundraising & marketing tips delivered directly to your inbox sign up here!