7 Steps to Ensure New Donors Can Easily Find You and Make a Gift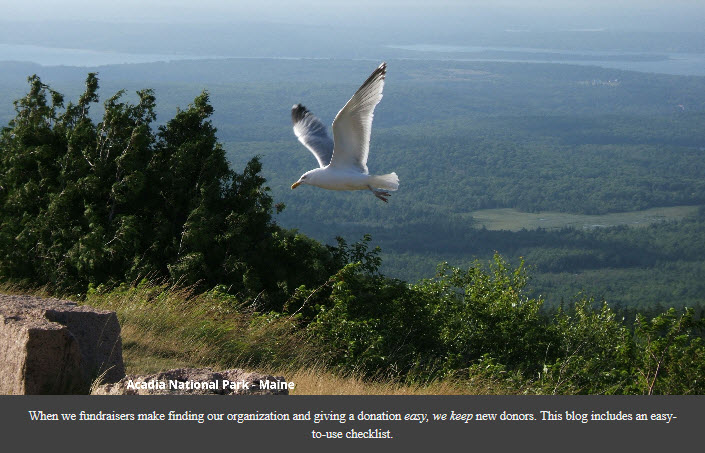 ---
"Phoenicia," the older gentleman said, "I'm glad I finally reached you. I called the main number, and the lady who answered doesn't know you. In fact, she said she'd never heard of the foundation."
I apologized profusely. I was new to the organization, but the foundation wasn't. I had wrongly assumed everyone knew about us.
I'm Not the Only One…Another "Almost Lost" Donor Story
When an event honors a well-known community leader, we in fundraising often ask for the names of their friends and associates. It's likely this is how the new couple's address came to be included on the invitation list, even though they had never attended before.
Viola, they decided for the very first time to buy tickets. (Good, so far.)
But, alas, they were nearly lost! The invitation was well designed but lacked essential information: no phone number, no email address, no street address for the event, no point person for questions.
So, the new donor placed a call to the institution's main number. And, just as happened to me years ago, the administrative staff member said, "No, we don't have a foundation. I've never heard of that event."
At that point, most new donors would have given up (lost to the organization). However, because of their relationship with the honoree, they persisted to a web search.
Alas, #2! Despite being beautifully designed, there was no logical web path to the foundation. Finally, at the bottom of a drop-down event tab, in very tiny print, a phone number was discovered!
If your goal is to reach new people and to market to new donors, be easy to find and to give to! Assuming everyone knows who you are and what you do limits your reach. (Watch "How to Find New Donors")
 7 Easy Steps to Make Giving Easy for New Donors
1.  Include a contact name, email, and phone number on every document, every email, every event web page, every sponsorship brochure…everywhere!
2. If you're in a large institution, ask the IT department to devote a web page to the foundation and to your fundraising endeavors. There, include a list of staff with titles, emails and phone numbers. Ideally, your fundraising department can easily be found from the home page.
3. You'll likely be told to include a "Contact Us" option with several boxes to fill in on your web page. "It helps avoid spam," I was told when building my site.
I'm sure that's true, but it also frustrates clients and donors. I haven't regretted making it easy by listing my name, phone number, and email.
4. Leave your office. Intentionally introduce yourself to doorway staff within your organization. We in fundraising work so hard. Our events and campaigns are often highly visible in local media, causing us to wrongly assume that people know who we are and what we do.
5. Create a simple "About Us" document to hand out within your organization. Ours included the foundation's street address (located miles off campus), my name and mobile number (key!), and a complete list of foundation staff, titles, and work numbers.
One late Thanksgiving eve, I was shopping with family in Florida when I received a call from an on-duty nurse. She needed answers regarding a potential grateful patient gift. We didn't get that donation but taking that call mattered. Word spread within the organization. The team knew our foundation staff was only a phone call away.
6. Educate your communications department. Try this: Call your organization's main number today, and ask for yourself…or the fundraising department.
7. New donors use GPS, which often relies on a street address. Include the event location so that attendees can easily find you.  Example: The Hilton DeSoto at 15 East Liberty Street, Ballroom 1, First Floor. (Excel at a whole new level by providing parking information to confirmed attendees and VIP spots for presenting sponsors!)
A Happy Conclusion…with a Twist
This story has a great ending, but not before another twist…once reached, the events coordinator directed the still-potential donor back to the web to buy tickets.
By now, however, that simply wasn't an option. "Can you take my credit card over the phone?" Fortunately, the answer was yes, and four event tickets were purchased.
Fundraising is sales. "Buying" should be an easy, transparent, customer-first experience.
Step back today, and pretend you're a new donor. Then, use the checklist above to ensure you arrive happy and ready to give for years to come.
---
Want a professional perspective on your project? Contact Phoenicia.
Watch a sample of her work here!
Discover more simple, experience-based fundraising tips, by Clicking Here.
To share feedback on this post, email PMiracle@MiracleStrategies.com or post to my Facebook page. To get winning, donor-centric, goal-focused fundraising & marketing tips delivered directly to your inbox sign up here!