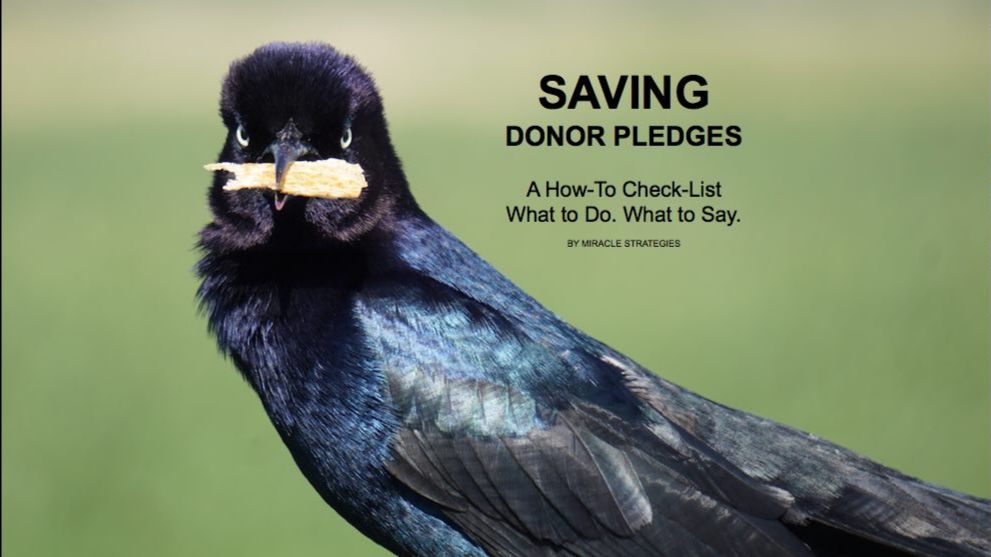 Saving pledges is personal, caring, customized work. Miracle Strategies Fundraising and Marketing excels during crises.
Schedule a Call Today! (Photo: Common Grackle by P. Miracle)

SAVING DONOR PLEDGES REQUIRES FOCUS:
How-To Check-List with What to Do & Say
---
---
Have you ever written off a campaign pledge?
I have. I was new on the job. It was 2009, in the midst of the Great Recession, and I was handed a single document to sign…to write off $68,000.
"You'll never get this money," I was told. "These pledges lapsed over two years ago. Mostly payroll pledges. These people don't even work here now."
I signed, and then I asked the most important question you can ask today: "What about our Major Donors' pledges? Has anyone called the donors?"
An hour later I had a pledge report on my desk. No, I didn't save all our major donor pledges, but I did save most, and you can, too, by taking these tried-and-true steps today!
1. Gather Data
Segment Donors by Annual Pledge $ Due December 2019-2020 .
Start with donors who've pledged at least $5,000 per year, or $2,500 if you have time.
When you call, Donors expect you to know (1) what they've paid, (2) what the owe, (3) what they "named," and the (4) terms of their pledge. Also, know who solicited this donor (made The Ask) originally.
2. Call. Do Not 'Figure' or Email!
I'm 99% sure you didn't secure many multi-year pledges with an email, so don't try to save them by email either!
Saving pledges is personal, caring, customized work.
One-on-One Work by the Right Person.
One of my first clients told me about a campaign he worked on pre-recession: "I don't know what ever happened to those pledges. I guess they just figured we couldn't pay."
3. Prepare Your Heart
Donors comprise a group who believes in our mission, has confidence in our leadership, and trusts that regardless of the circumstances, we in leadership will be transparent, honest, and nimble.
Talking about money isn't easy in the best of times. Imagine how your donor may feel today!
Last week, a client's scheduled two-hour call was extended by an hour as we discussed heartfelt concerns and looked for new "solutions."
4. Prepare Your Script Before the Call. Include…
Steps Taken to Maintain Mission
How You're Remaining Relevant
How You're Engaging Your Executive Committee
How You're Maximizing Staff
More than any time in my fundraising career, donors are interested in operations!
5. After "How Are You? Thank You…and Here's What We're Doing to Protect Our Mission," Say This:
     Your pledge during 2018 helped us make our goal. As you may know, we've already begun construction on the facility…
     Our goal from the beginning is to expand our services by 20%, and we were on track to do so until this crises occurred. I simply want to let you know that we're happy to extend the pledge period or defer the pledge payments for any donors who need extra time to make their commitment.
6. Listen and Take Notes
This conversation should be documented because a signed pledge is a legal document, and any changes discussed should be followed up on in writing.
7. Be Ready to Discuss Two Reasons to Give in 2020
The CARES Act increases the percentage of AGI (adjusted gross income) which may be contributed from 60% to 100% if the gift is made in 2020.
8. Steps to Take After the Call
Donor Reschedules a Pledge
Follow up immediately. Include a letter, a new pledge form with the updated payment schedule, and a pre-addressed envelope.
Save time by drafting a letter that highlights all the points made in your call, but customize your opening paragraphs:
      As promised, I am following up on our conversation regarding your pledge balance of $75,000 to the Wonderful Facility Campaign. I have rescheduled your annual pledge payment from $25,000 to $15,000, which I understand will be paid in December 2020-2024.
      Please sign and return the enclosed revised pledge form, and we will update our records. On behalf of our Board of Directors, the Wonderful Facility Campaign Committee, and the community we serve, thank you.
Donor Says, "No Change Needed."
Follow up with an email, thanking them for the conversation and their continued commitment.
Donor Says, "Call Back. It's Too Soon for Me to Know."
Follow up with an email. Say thank you for the conversation and promise to follow up in four weeks.
Schedule in your calendar. This is not a call you can forget.
Good News
I'm betting that 95% of your pledges will be secured if you Call, Write, and Follow Up.
---
Contact Information
Miracle Strategies Fundraising & Marketing
Phoenicia Miracle, Principal
www.MiracleStrategies.com
PMiracle@MiracleStrategies.com
(912) 272-2263
PO Box 10851 Savannah, GA 31412
5 Gadsdenboro St. #315 Charleston, SC 29401
Want to change how you receive these emails?
You can update your preferences or unsubscribe from this list.
Copyright © 2.20.20 Miracle Strategies. LLC All rights reserved.