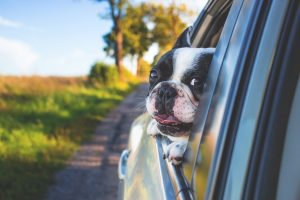 Before I provide tips and how-to's for your Annual Appeals Calendar, I want to share an analogy from an interview with Chris Urmson, CEO of Aurora Innovation and a former Alphabet engineer who is pioneering self-driving car technology.
"I remember being on the 101 freeway in California…driving down the road at 65 miles per hour, not touching the steering wheel," he told the forum host of The Atlantic Festival. "Ten minutes in, the woman sitting next to me, said, 'Is that all it does?'"
He then put his head on his hands, laughed, and said rhetorically, "It's a self-driving car…I don't know what you expected…."
Watching his interview reminded me of how we fundraisers feel when we report on Annual Fund strategies during a board meeting. No one wants to know how the appeal works; they simply want the car to arrive safely.  They want fundraising appeals that work!
Set Expectations: What to Share with Your Board
Annual Fund gifts are rarely as large as capital or program campaign donations.

Annual Fund gifts are just that – they're annual, or made each year. This means you'll need to ask again and again.

Annual Fund appeals may be made more than once per household. You may send a letter, an email, a newsletter, and a Facebook ad all to the same prospect.

Annual Fund appeals, with planning, can be graphically coordinated so that your print, email, website, and social media "asks" share like stories and similar design elements.

Annual Fund messaging is focused, and audiences are often targeted. For example, social media campaigns work best for finite, "emergency" needs, not for operational support.
The Plan: More Than an Annual Fund Calendar
To be effective, your Annual Fund Calendar requires more than a "Go" date. Take time to list what you'll need to be successful.
Your answer will change your project calendar. For example, you may add a date for data exports, vendor quotes, graphic design deadlines, testimonials, printer deadlines, and on and on.
How to Choose Fundraising  Strategies
Project gross revenue and gross expenses. Will you net enough to make the effort worth doing? (This is where people talk about PR and visibility….Stay focused on fundraising.)

Can you afford to lose money? Major bulk-mail houses suggest that you buy large lists as a way of finding new donors. Once they give, add them to your donor database. Then, steward and grow. (Electronic cars, for example, still aren't profitable…but they're projected to be in 2021. Can you afford to wait?)

Does any part of your strategy require external business partners such as printers, web designers, social media consultants, etc.? Get 2 or 3 quotes. Be willing to pay more for a real, live local resource who answers the phone and cares if you succeed!

Who is your target audience?
Common Annual Appeals
Traditional Appeals
Snail-mail letters – These could go to purchased mailing lists, existing donors, or prospects you've gathered through special events.

Snail-mail newsletters

Phone-a-thons (rare; some organizations host a Thank-a-Thon with volunteer board members calling chosen donors to say thank you)
Electronic Appeals (Often require one or more external software partners)
Email appeal with link to your philanthropy's online giving site

Email newsletters with a link to your philanthropy's online giving site

On-line campaigns such as Giving Tuesday (or, create their own day or weekend of giving)

Social Media campaigns such as adding a "Donate" button on Facebook

Text-to-Give

Passive support via major online vendors such as Amazon Smiles
The Conclusion
Take time to build a fundraising calendar this year that starts each project at least 8 weeks before the "Go" date. The result will be a smooth and steady ask…almost like a driver-less car, it will appear as if you never touched the wheel!
---
Want a professional perspective on your project? Contact Phoenicia.
Watch a sample of her work here!
Discover more simple, experience-based fundraising tips, by Clicking Here.
To share feedback on this post, email PMiracle@MiracleStrategies.com or post to my Facebook page. To get winning, donor-centric, goal-focused fundraising & marketing tips delivered directly to your inbox sign up here!